Description
THE COMPANY
Created in 2013, PyroGreen Innovations is a simplified joint-stock company based in Anglet (Pyrénées-Atlantiques) with a capital of € 700,000, headed by Mr. Xavier MAURANCE and Mr. Robert BOZZA. PyroGreen Innovations offers a patented technological solution in the form of a license (entry fee and annual royalties), integrating the engineering necessary to adapt its offer to the specificities of each territory, depending on the type of waste to be treated and the desired energy priority.
Thus, in cold countries, PyroGreen Innovations will favor connections to a heat network. In the tropics, priority will be given to electricity generation. PyroGreen Innovations has the potential to implement desalination technologies, powered by the energy produced, on the seafront or in developing countries.
The TEAM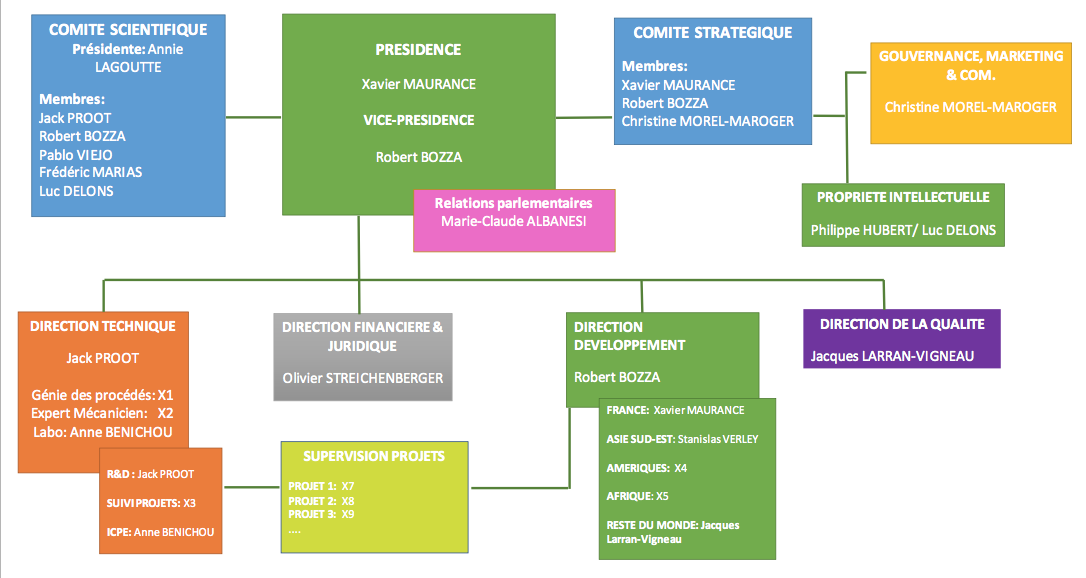 THE TECHNOLOGY : zero waste, zero discharge !
The purpose of the company is to develop a process to generate electricity based on renewable resources using hazardous wastes and ultimate wastes for which recovery is deemed economically impracticable (asbestos, electronic waste, automotive shredder residue, contaminated wood, fly ash from incinerated household waste, etc.) as a source of operation in a strong commitment to creating value and employment.

The technology developed by Pyro Green Innovations provides a solution to the following two-fold issue: how to reduce the environmental impact of waste and at the same time produce green energy that does not affect fossil fuel deposits.
• Protected by international patents, the process assembles in radically different way proven technologies in their respective fields. It consists of:
    1 / destroying waste by immersion in a molten glass bath,   
    2 / aerating the resulting carbon load,  
    3 / vitrifying and fixing the pollutants and toxic substances in the matrix glass. The inert vitrified result is recoverable (aggregates, abrasives, ballast ...)  

• Besides the production of renewable energy (steam, electricity, gas), the process is a response to the problem of waste disposal and recovery of strategic metals including precious and rare in the waste.
A combination of unique assets
The process developed by PyroGreen Innovations ensures the recovery of non-ferrous metals found in final waste while producing a material with similar applications to sand (filtration, abrasive aggregate). The process also produces considerable energy which can be turned into electricity, heat, synthesis gas or even bio-fuel. Energy efficiency (electricity + heat) exceeds 90%.
It is a clean and safe innovation adapted to local needs!
PyroGreen Innovations is the real answer to environmental challenges. No more saturated landfills, storage of toxic waste and incinerators: Polluters in later life. The process also allows valuation of raw materials by recovering all metals and leaving only inert vitrified glass residue.
Here, no magic, only chemistry.
Vitro gasifying is a process based on the structure molecular disorder of amorphous glass. The vitrified glass acts as a sponge permanently trapping pollutants and toxics by eradicating their dangerous potential... Fundamental research began in 1995, following an idea of Jacques Proot (world expert in metallurgy of non- ferrous) who observed the ability of a glass furnace to digest several types of waste. 5 years later, the first patent on a pyro-gasification process was filed.
Then a pilot was built to validate the technology; it worked from the years 2001 to 2008, validating a TRL 7 (Technology Readiness Level).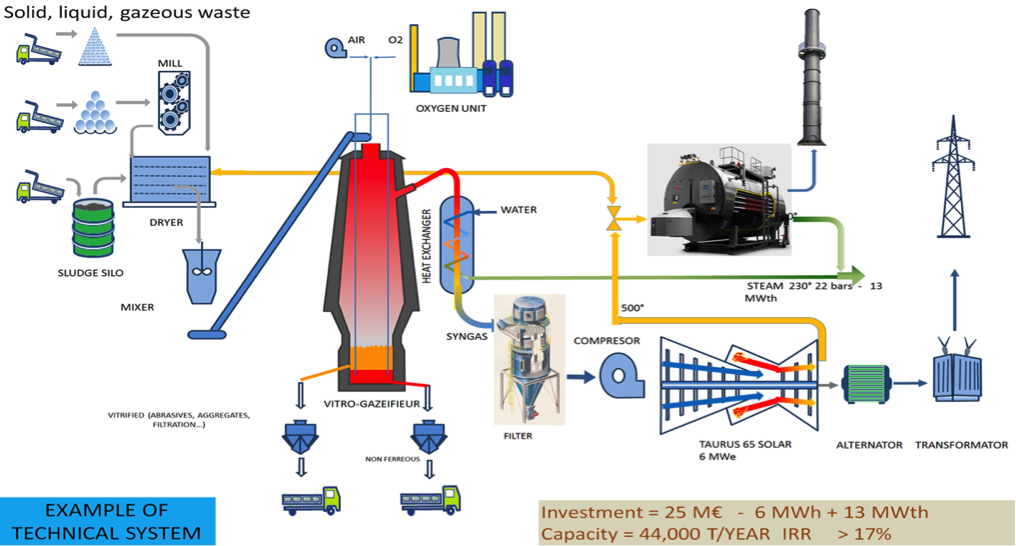 With PyroGreen's process, we deliver results on sustainable development as:
• Complete conversion of waste into renewable energy
• Preservation of natural resources • Permanent local employment
• Odourless production
• No toxic residues but a valuable by-product
• Definitively, zero waste
This project is not just about waste management. It also opens much broader perspectives in terms of renewable energy, preservation of natural resources and permanent local employment.
Final result: zero waste, zero discharge.
PYROGREEN INNOVATIONS TO THE COP21

OUR MARKET :
1.5 billion tonnes of waste are buried each year on a global scale.
250 million tonnes of waste landfilled each year in Europe.
At a minimum, PyroGreen Innovations plans 38 installations for the period 2018-2024 out of 10,000 potential ... 0.4% of the world market!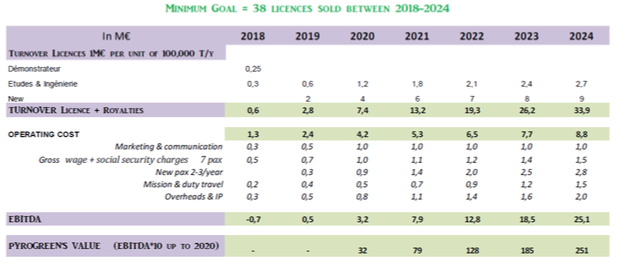 Describe your project goal
THE DEMONSTRATOR OF FOS SUR MER
PyroGreen Innovations capitalizes 15 years of experience in fundamental research and more than € 8 million invested in two pilot projects that validated the relevance of its solution. This technology is now moving to a pre-industrial stage with the creation of a demonstrator located in Fos sur Mer (Bouches du Rhône) and managed by an operating company jointly owned by Pyrogreen Innovations and a consortium of industrialists.
To achieve this, PyroGreen Innovations is accompanied by:

Now, we must do the first demonstrator at industrial scale. This is the G3G4 demonstrator project based in Fos / Mer area (near Marseille – France).
Prior to this, PyroGreen Innovations is to carry out sizing and characterization studies of the future demonstrator while extending its level of protection in Intellectual Property (2 patent filings to be finalized).
To accelerate its development, PyroGreen Innovations needs to strengthen its equity. Pyrogreen offers you to be an actor of your future by subscribing to its capital increase.