Description
The révolutionary eco-material for rapid construction of homes in molded wood.
Mbio7 was also awarded at the prestigious 2015 Lépine Medal Competition of the Ministry of Foreign Affairs and International Development.
mBio7, bio-sourced and ecological
mBio7 is a molded wood panel, which makes it easy and fast to build emergency and sustainable homes, with a global resource of wood raw material from recycling, inexhaustible.
mBio7 adapts to all types of homes. Its anti-seismic, ecological and fire-resistant performance gives it the benefits expected of NGOs, particularly in emergency reconstruction, but also for local authorities and individuals.
mBio7 is made from residue recycling without any deforestation.
mBio7 is a CO² trap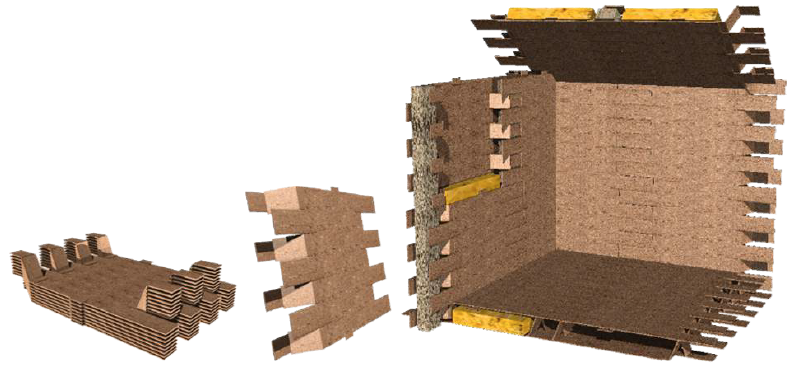 The unique properties of mBio7 :
. Material rot-proof, anti-thermite, fungicidal, non-flammable, adapted to antiseismic (not breakable)

. Unlimited and local filling materials (cellulose, straw, wool, earth, concrete ...)

. Logistics facilitated: saving space in storage and transport

. Easy assembly

. Self-construction without water need

. Modular and transformable at will

. FLow cost

. Lightness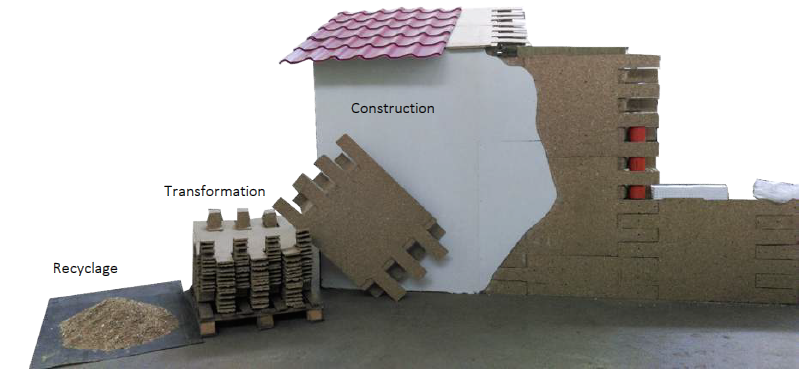 mBio7, a humanitarian vocation
The global demand for emergency reconstruction is huge and continuous: every earthquake, cyclone or refugee movement unfortunately causes ... a huge need for emergency reconstruction at low cost. For many years, the World Bank and UNHCR have been trying in vain to finance "emergency homes" at very low cost (less than € 300 per square meter), including water andelectricity ...
mBio7 has the double interest that anyone, without any particular knowledge of construction, can assemble our panels:
. the local workforce is able to rebuild without any training, with mBio7 and materials available on site
. the victims, themselves, become actors in their survival and their future.
Demands planetary unlimited
. Emergency housinge
. Health centers
. Residential dwellings
. Raising
. Floating dwellings
. Industrial premises
. Self build
. BTP
Comparative between mBio7 and a building in traditional materials of construction:
For simplicity, this example concerns only the realization of the external walls of a building of 7m x 8m, ie 56 m² on the ground.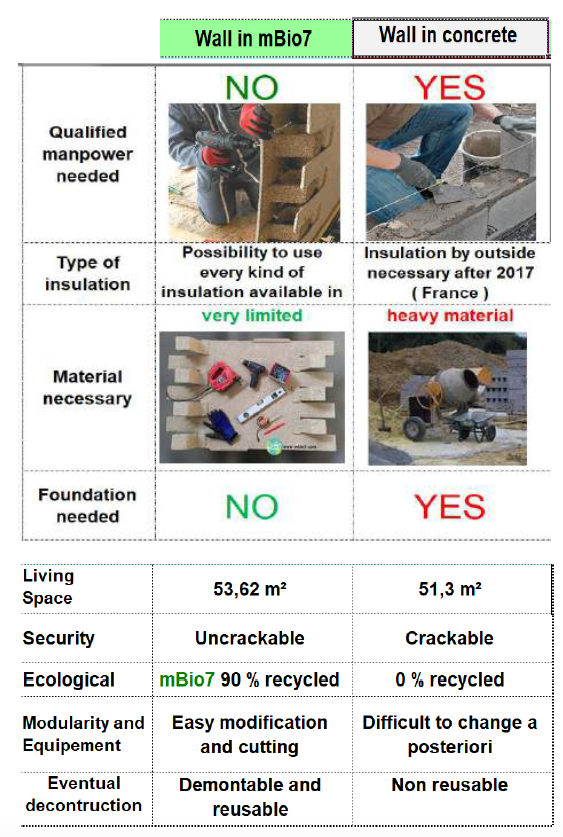 More information on the site of mBio7
Assembly and construction techniques
mBio7 assembles in a simple and flexible way, without knowledge of building trades, with few tools and without water.
The principle : offset mounting of the panels and screwing of the "A" zones guaranteeing the rigidity of the construction without the use of a framework.
Assembly: the panels are assembled by interlocking, screwing and filling with cellulose, straw, wool, earth, concrete or any other material. It allows the assembly, insulation and finishing of walls, partitions and residential roofs.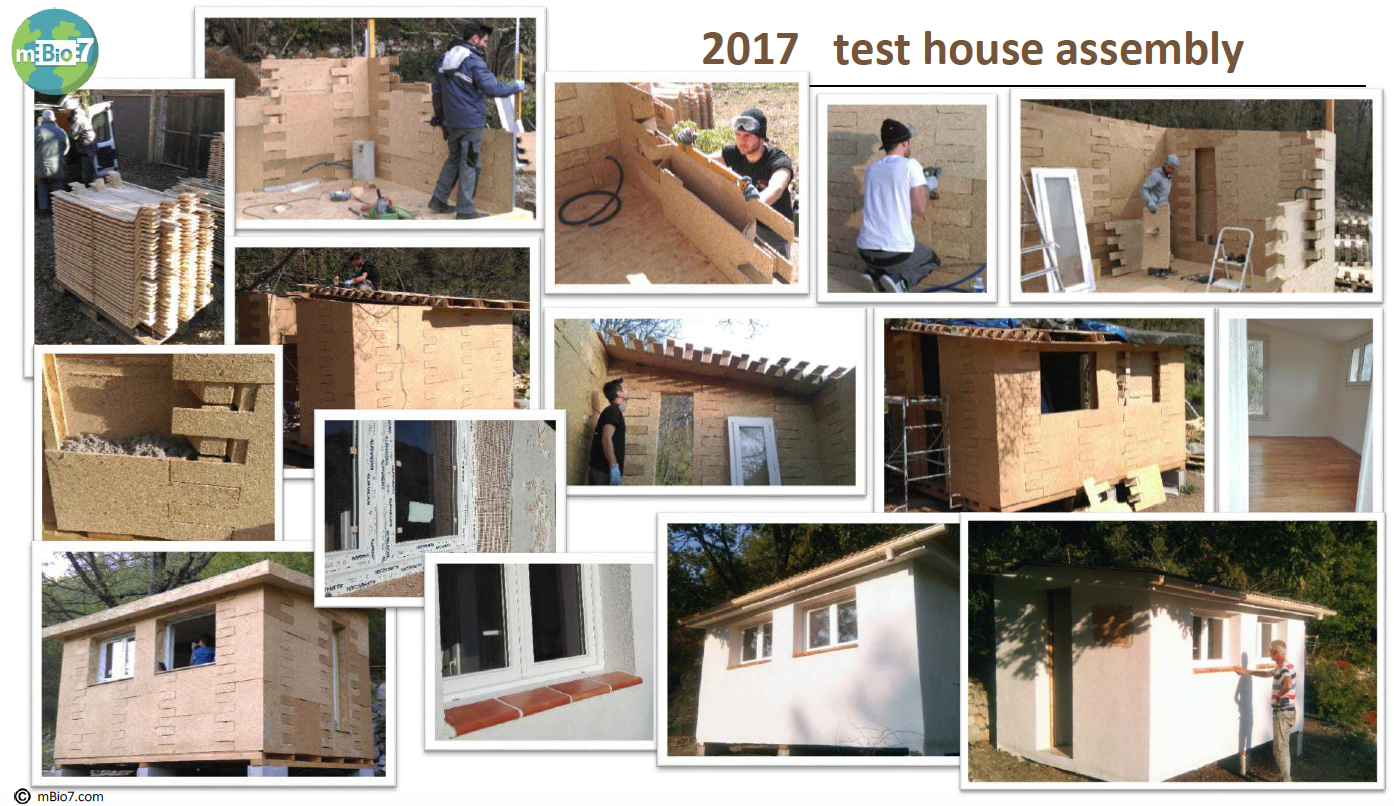 SAS MBio7, founded in 2016 and owned by its 2 inventors, manages worldwide patents, development and distribution of this innovative material.
Why do we need your help for funding?
To date, we have completed the development and industrialization phase. We must now move quickly to mass production, because the needs are very important, both in the humanitarian field and for the general public;
This requires large investments in expensive but indispensable equipment.
Thank you in advance for your participation and thank you for sharing, we count on you