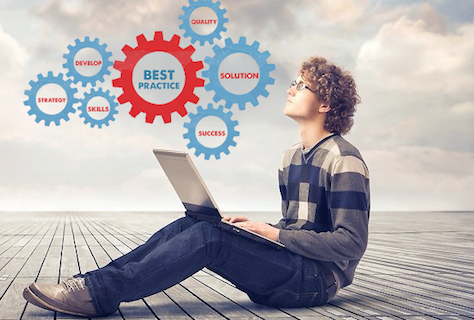 crowdfunding & bonnes pratiques entrepreneuriales
November 15 2017
crowdfunding & best business practices
Le crowdfunding n'est pas un moyen automatique de lever des fonds.
Ce n'est pas parce que vous déposez un projet sur une plateforme de crowdfunding que vous n'avez plus rien à faire.
Bien au contraire ! En qualité de PORTEUR DE PROJET, votre rôle est déterminant. Vous êtes le pilier, le représentant, le fédérant, c'est votre image et vos capacités managériales que vont engendrer la confiance des contributeurs et donc la réussite de la campagne et par conséquent celle de votre projet.
Vous devez d'abord rallier à votre projet ceux qui vous connaissent pour convaincre ceux qui ne vous connaissent pas de votre volonté à CHANGER LE MONDE !
Le crowdfunding n'est pas le dernier recours lorsque les business-angels, capital-ventures ou les banques ont refusé de financer votre projet. Le crowdfunding est souvent un complément à un autre mode de financement. Loin d'un phénomène de mode et bien au-delà du simple financement, le crowdfunding se révèle comme un formidable vecteur de communication, un outil de marketing.
Un PROJET mal défini, pourra être source de litige ou d'incompréhension de la part de la communauté des contributeurs.
Vous réussirez à financer votre projet parce qu'il est désirable, réalisable et viable.
désirable :
il a suscité l'intérêt du comité de sélection de la plateforme de crowdfunding et plus tard celui des contributeurs de la communauté.
réalisable :
votre projet est techniquement au point, il fonctionne et vous vous apprêtez à lancer sa commercialisation.
viable :
votre projet répond à un besoin, une attente et vous avez identifié le marché.
Tout investisseur a besoin de croire au pitch, à l'histoire, au récit de votre aventure. Car, l'entrepreneuriat est une aventure.
Pour cela, le crowdfunding doit vous permettre de démontrer l'acquisition de compétences particulières et d'une expertise à part entière :
- en structurant votre approche (Comment vendre mon projet? Combien et à qui?)

- en créant d'abord le produit, même s'il reste perfectible,

- en trouvant les clients,

- en regardant si votre offre est bonne en le confrontant au marché.

Monaco Crowdfunding vous donne accès à des outils digitaux (crowdsourcing), comme les campagnes de votes, la pré-vente… pour tester votre concept.
Vous déterminerez ainsi le niveau réel de la demande, les marges, les cycles de ventes, les barrières à l'entrée. Les levées de fonds ne garantissent pas le succès. Seule, l'adhésion à l'offre garantie la réussite.
Même si celui qui arrive en premier sur le marché n'est pas forcément celui qui en profitera, évitez de retarder votre entrée sur le marché à la recherche de la perfection pour votre concept. Les bons entrepreneurs sont ceux qui savent se mettre en mouvement au bon moment.
Montrez-nous que votre business va marcher (l'innovation du concept, votre business model). Il est préférable de choisir un marché qui est vaste, dans lequel la satisfaction des consommateurs n'est pas comblée par les solutions disponibles.
Pour se développer à l'international, l'équipe fondatrice doit être mature, car la création d'établissements secondaires nécessite la mobilisation d'un membre de l'équipe fondatrice sur place et le recrutement de collaborateurs locaux avec toute la difficulté que cela implique à recruter des talents.
Il faut choisir en priorité l'endroit où il sera possible de faire du cash-flow rapidement. Une connaissance de la concurrence locale est donc indispensable : attention aux débouchés fermés ou réservés aux acteurs locaux.
Rassurez-nous sur la bonne exécution du projet grâce à une équipe talentueuse, pluridisciplinaire et associée au capital. La complémentarité assure une cohésion dans l'équipe.
En conclusion, la théorie de Darwin s'applique aussi à l'espèce des entrepreneurs. Agilité et évolution de votre projet sont les gages de la survie de votre entreprise. 2/3 des startups disparaissent dans les 2 premières années.
Toutes les belles histoires que Monaco Crowdfunding accompagne n'ont toute pas connu un parcours identique. Parfois, alors que personne ne croyait au projet, quelques investisseurs ont apporté conseils, expériences et investissement et ont forgé ainsi grâce à l 'écoute du porteur de projet, une réussite entrepreneuriale.
Crowdfunding is not an automatic means of raising funds.
It is not because you deposit a project on a crowdfunding platform that you have nothing to do.
On the contrary! As a PROJECT CARRIER, your role is decisive. You are the pillar, the representative, the federator, it is your image and your managerial capacities that will generate the confidence of the contributors and thus the success of the campaign and consequently that of your project. You must first rally to your project those who know you to convince those who do not know you your will to CHANGE THE WORLD!
Crowdfunding is not the last resort when business-angels, venture capital or banks have refused to finance your project. Crowdfunding is often a complement to another form of financing. Far from a fashion phenomenon and well beyond the simple financing, the crowdfunding reveals itself as a formidable vector of communication, a marketing tool.
A poorly defined PROJECT may be a source of litigation or misunderstanding on the part of the community of contributors. You will succeed in financing your project because it is desirable, feasible and viable.
Desirable :
it aroused the interest of the selection committee of the crowdfunding platform and later that of the contributors of the community.
Achievable :
Your project is technically up to date, it works and you are about to launch its marketing.
viable :
your project meets a need, an expectation and you have identified the market.
Every investor needs to believe in the pitch, the story, the narrative of your adventure. Because, entrepreneurship is an adventure.
For this, crowdfunding must allow you to demonstrate the acquisition of specific skills and expertise in its own right:
- structuring your approach (How to sell my project? How much and to whom?)

- by first creating the product, even if it remains perfectible,

- by finding the customers,

- by looking at whether your offer is good by confronting it to the market.

Monaco Crowdfunding gives you access to digital tools (crowdsourcing), such as voting campaigns, pre-sales ... to test your concept.
This will determine the actual level of demand, margins, sales cycles, barriers to entry. Fundraising does not guarantee success. Only membership in the offer guarantees success.
Even if the one who comes first on the market is not necessarily the one who will benefit, avoid delaying your entry into the market in search of perfection for your concept. Good entrepreneurs are those who know how to move at the right time.
Show us that your business will work (the innovation of the concept, your business model). It is better to choose a market which is vast, in which the satisfaction of the consumers is not filled by the available solutions.
To develop internationally, the founding team must be mature, because the creation of secondary schools requires the mobilization of a member of the founding team on site and the recruitment of local staff with all the difficulty that this implies to recruit talent. The priority is to choose where it will be possible to make quick cash flow. Knowledge of local competition is therefore essential: attention to closed outlets or reserved for local actors.
Reassure us about the good execution of the project thanks to a talented team, multidisciplinary and associated with the capital. Complementarity ensures cohesion in the team.
In fact, Darwin's theory also applies to the kind of entrepreneurs. Agility and evolution of your project are the keys to the survival of your company. 2/3 of startups disappear in the first 2 years. All the beautiful stories that Monaco Crowdfunding accompanies have not all gone through an identical journey. At times, while no one believed in the project, some investors provided advice, experience and investment and, thanks to listening to the project leader, forged an entrepreneurial success.